Academic Solutions
·
Article
New Independent Research Affirms Equitable Access Is Improving Course Completion Rates
February 27, 2023
Equitable access programs like Barnes & Noble College's First Day® Complete improve student outcomes, according to a growing body of independent research. Equitable Access: A Course Completion Rate Analysis from a 4-Year Institution is the latest study from Dr. Michael Moore, a researcher out of the University of New Hampshire.
The study revealed that when college students participate in an equitable access program – receiving their required course materials on or before the first day of class – they're more likely to complete a course than students who source their own materials.
After three terms with the Eagle Direct Textbooks equitable access program, the University of Southern Mississippi's overall course completion rate increased by nearly 1%, and traditionally underrepresented student populations saw even higher increases.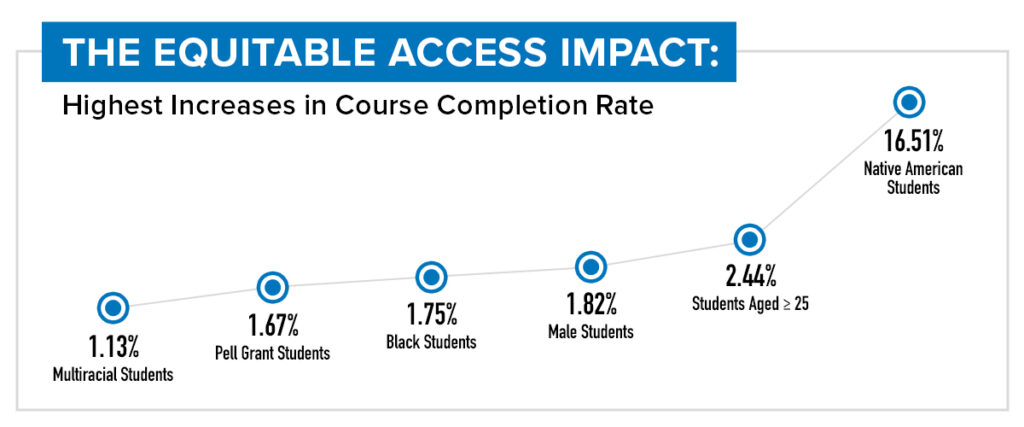 The study's findings reinforce that equitable access programs like remove significant barriers from higher education by improving access, affordability, and convenience. For Native American students at Southern Miss, equitable access helped close a significant gap in course completion. Before the equitable access program, Native American students had the lowest course completion rate of the demographic groups studied, at 66.33%. After, the rate increased by 16.51% to 82.84%, which is in alignment with the other groups studied.
Ultimately, the results demonstrate that, with equitable access, hundreds more students are completing their courses. These results are tremendously important to students and their families – and they can have ripple effects on persistence and college completion for students, as well as retention and revenue for institutions.
As Dr. Moore highlights in his report, while research has a valuable role to play in quantifying the impact of equitable access programs, each institution has an opportunity to shape the program and maximize its value for students.
"It is incumbent upon practitioners – administrators and faculty – to look beyond the statistical significance to see how adoption of these course materials intervention models can help students be more successful and stay on track during their academic journey and degree attainment. Course materials intervention research isn't rocket science, but course materials intervention adoption could help someone become a rocket scientist."
More Insights
Academic Solutions
· Article
The First Day® Complete Impact at EKU
Eastern Kentucky University's Chief Auxiliary Services Officer, Steve Caudill, discusses the impact of First Day® Complete on EKU's students.