Academic Solutions
·
Article
Keep It on Campus: Revenue, Student Preparation, School Pride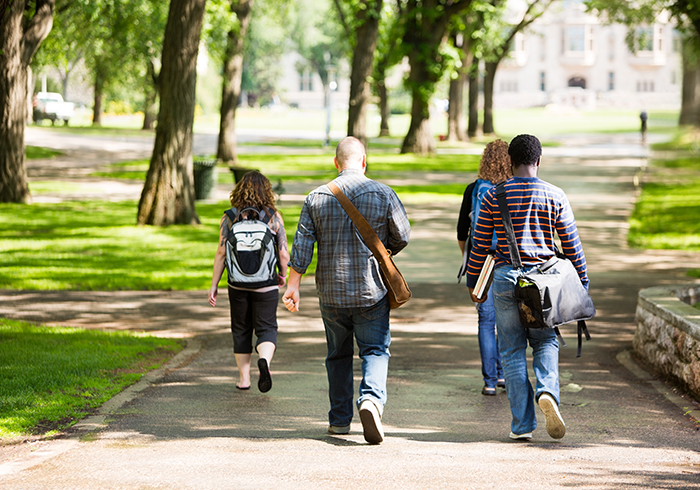 October 1, 2020
Colleges and universities across the nation continue to adapt and evolve rapidly as the Fall 2020 term progresses. Barnes & Noble College is supporting our campus partners' most pressing priorities in this time. While we start with the ongoing affordability initiatives that provide the lowest-cost course materials in the industry, we're also creating and fine-tuning programs and services that help students get what they need to be successful — while keeping vital revenue on campus.
Here are four key priorities we're helping address and the approaches that get results.
Increased access, affordability and revenue
Our First Day™ Complete program delivers all course materials to all students by the first day of class, bundling costs with tuition and fees. Convenience and savings — an average of 40-50% – incentivize students to participate. The program's volume ensures institutions can recapture market share and increase revenue.
For the Fall 2020 term, institutions with First Day™ Complete made it simple for students to get their course materials no matter how and where they were learning. Onondaga Community College — where the program is branded on campus as Box of Books — appreciated the benefits First Day™ Complete offers.
"Course material delivery has gone really smoothly this semester, and that's because of Box of Books. It has made the process so much easier for our students, and I'm so happy we can offer a program that's so advantageous for them. Box of Books makes our students and their success the priority."
— Anne DeLand, Director of Compliance and Auxiliary Services, Onondaga Community College
Innovative, state-of-the-art retail experiences
We draw on national resources, proprietary research and retail expertise to deliver in-person and online experiences that keep customers excited and engaged.
• Convenience and safety — We offer delivery of course materials, as well as concierge service in store, for a predefined and streamlined pick-ups and returns. This year, for the first time, students also could select curbside pick-up in our mobile app for course materials and general merchandise – a first in the industry. In addition to this innovative approach, we are also offering "appointment shopping" in store via reservations made through our app.
• Eye-catching displays of high-demand merchandise — Vibrant, customized display pods make it easy for customers to quickly locate popular merchandise in store. These displays allow shoppers to move through the store more efficiently in a festive setting that centers school spirit.
• Brand new e-commerce sites — It's fun and easy to shop with our new online experience, which features highly personalized touchpoints and hyper-localized content such as local weather and upcoming campus events. The e-commerce sites include all the features you find on best-in-class retail websites, including the ability to zoom, rate and review.
• Broader merchandise selection — In addition to curated merchandise collections in store, we have expanded our overall merchandise assortment by adding 2,000+ new drop-ship products online. These orders are sent directly from the vendor to consumers.
• Convenience goods in bulk — Students can buy anything from cleaning supplies to cold-brew coffee and sports drinks through the college store, delivered wherever they need. This offers an extra layer of support for students spending less time on campus or navigating reduced foodservice offerings.
Strong student loyalty and connections
In our proprietary 2020 Student Pulse report, 75% of students told us they prefer email communications from their college store, and 80% wanted to see sales and discounts. We accelerate email marketing and offer promotions catered to your community to drive engagement, traffic and sales.
Reinforcing how the college store supports the institution
Our research revealed that students value social responsibility and sustainability — but they also care where the revenue from their purchase goes. Almost 3/4 of students (73%) said they'd be more likely to purchase if a portion will be returned to support your institution. We work with our campus partners to communicate how the college supports and enhances the college experience.
Even in a challenging environment, the college store has opportunities to support institutions with creative solutions and programs. Barnes & Noble College helps our college and university partners deliver the affordable, accessible course materials students need as well as the engaging retail experiences they crave. Across all initiatives, we help keep revenue where it belongs — on campus.
More Insights
Academic Solutions
· Article
The First Day® Complete Impact at EKU
Eastern Kentucky University's Chief Auxiliary Services Officer, Steve Caudill, discusses the impact of First Day® Complete on EKU's students.