College Insights
·
report
College 2030™ – Emerging from the Pandemic: Reimagining Higher Education
Students and institutions are on the path to prepare for a post-pandemic future. As the world has adapted and developed solutions to conquer COVID-19, higher education must do the same, revising offerings and solutions to best accommodate emerging student needs.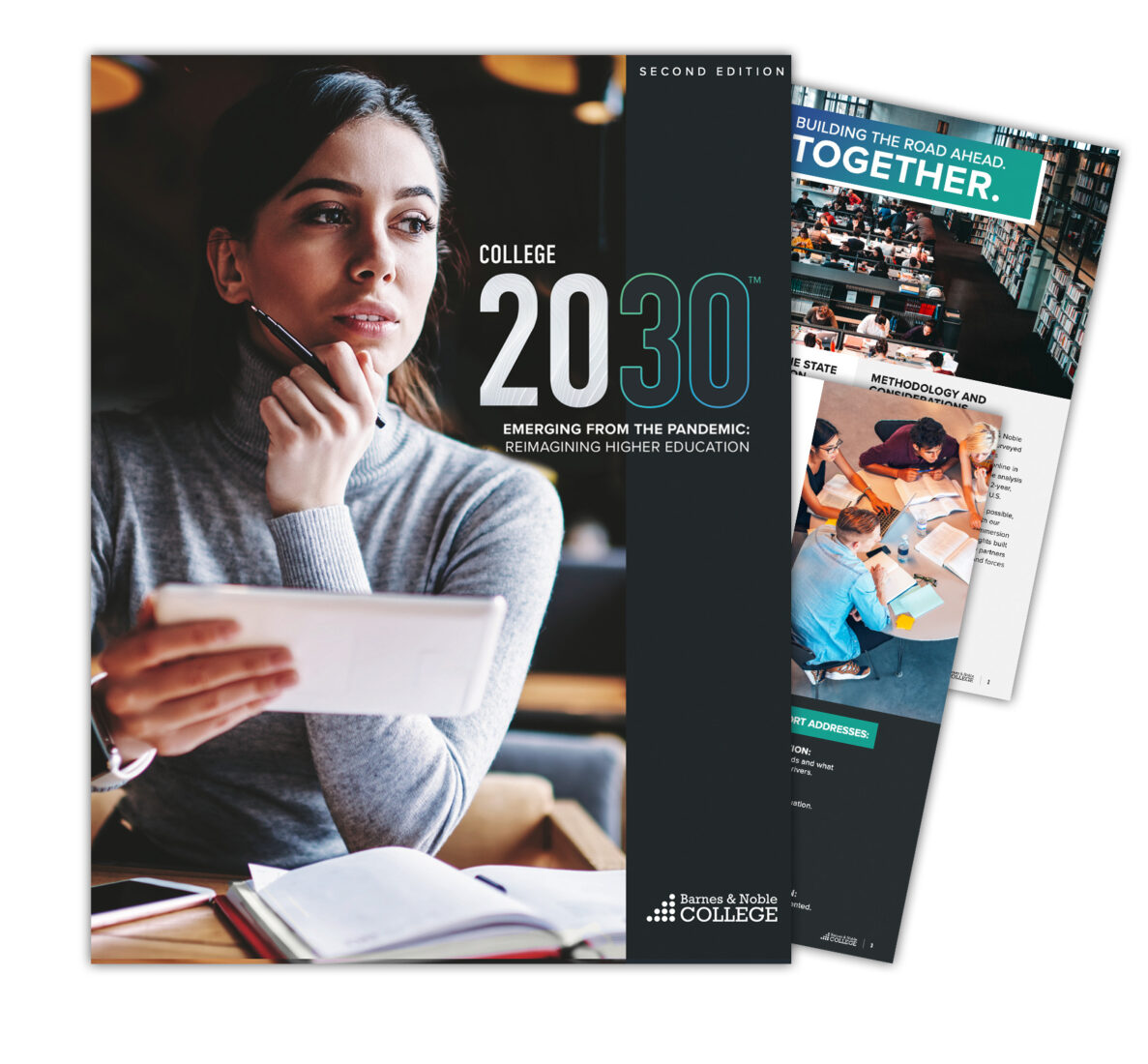 Emerging from the Pandemic: Reimagining Higher Education
To help surface opportunities for improvement and best prepare institutions for the days, months, and years ahead, Barnes & Noble College Insights™ is pleased to share our annual COLLEGE 2030™ research report on the needs and mindset of students, faculty, and administrators.
The 2022 report continues our journey to understand and harness the forces that will have a profound impact on higher education over the next eight years by addressing mental health, career preparedness and how to foster an environment of diversity, equity, and inclusion.
DOWNLOAD THE REPORT
What you'll learn in this report
The Value of Education + The State of Student Loans
How value continues to be at the forefront of students' minds and what both students and faculty perceive as key value drivers. Plus, how they plan to pay for their education.
Resources students need to be successful post-graduation.
Supporting Mental Health + Fostering Diversity, Equity, & Inclusion
What mental health support students and faculty seek. Plus, the state of DEI on campus and the needs of those underrepresented.
Students want hybrid learning to continue, while faculty favor an in-person learning environment.
The pandemic's impact on class formats has uncovered a discrepancy in preferences between students and faculty. Nearly half of students prefer a hybrid class format, while more than half of faculty favor a fully in-person environment. This poses a challenge for institutions to align the two groups' differing preferences.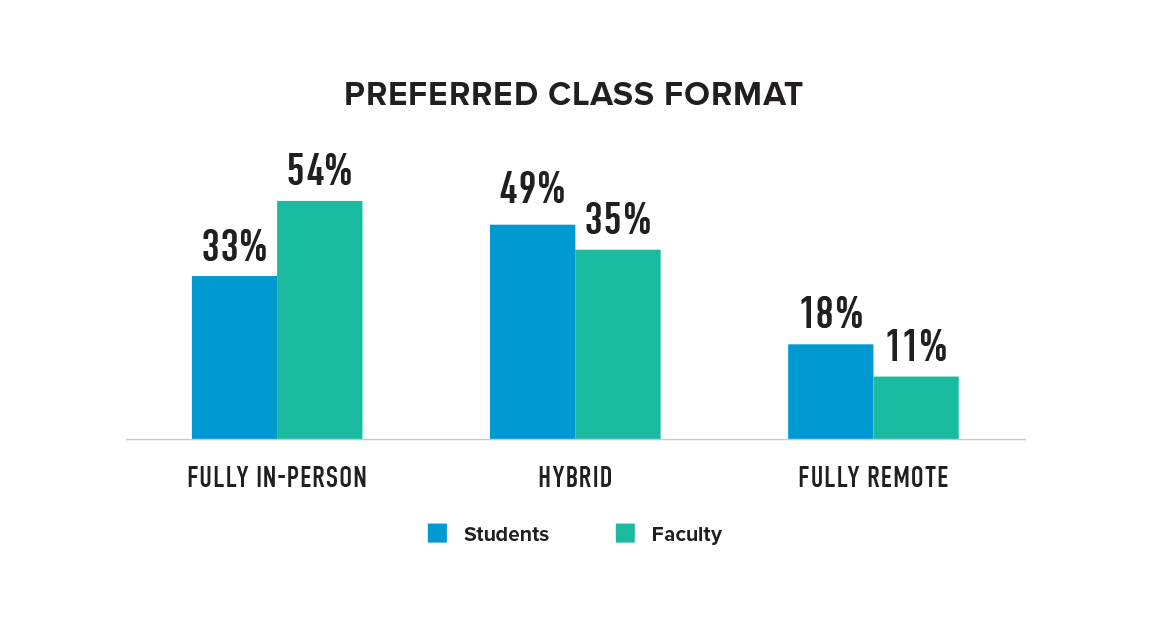 "The change in higher education has been greater during the pandemic than it has been in the last two decades cumulatively, challenging universities to take a business-focused approach to student retention. As we move through the next decade, it will be more important than ever to ensure administrators are not just asking for faculty feedback, but also listening to their students' wants and needs and creating a personalized learning experience that will fit each students' path forward."
– Michael P. Huseby, Chief Executive Officer and Chairman, BNED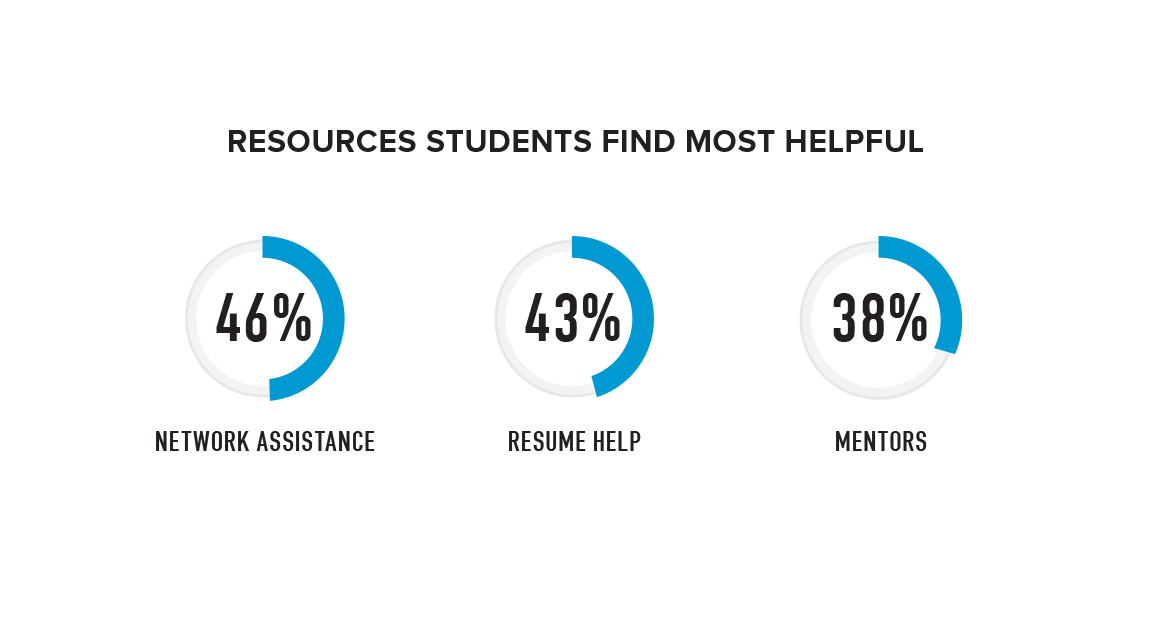 Enhancing the value of higher education can be achieved by offering more tangible career prep programs and developing soft skills.
When it comes to job planning and career prep, students are interested in receiving help to develop leadership, self-motivation, communication, and critical/analytical reasoning skills. They would find resources such as networking assistance, resume help, general job search help, and mentors most helpful while in college.
45%
of students would like to see their school offer free 1:1 counseling sessions
Join the #COLLEGE2030 Conversation
Download the COLLEGE 2030™ Report