Retail Reimagined
·
Article
Revamp Your Mobile App to Appeal to Gen Z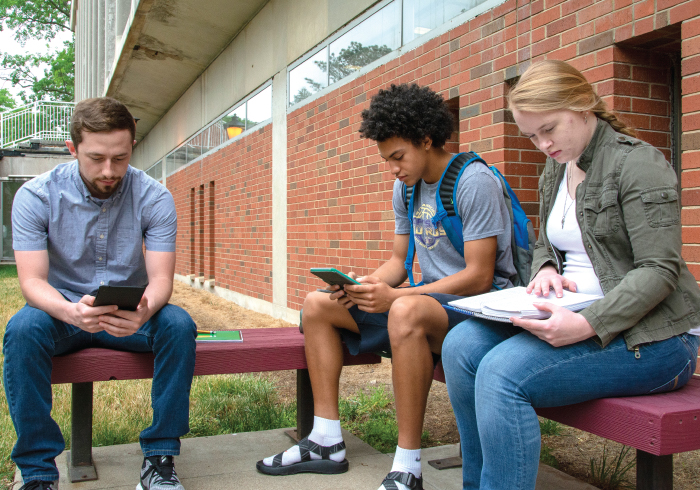 June 11, 2019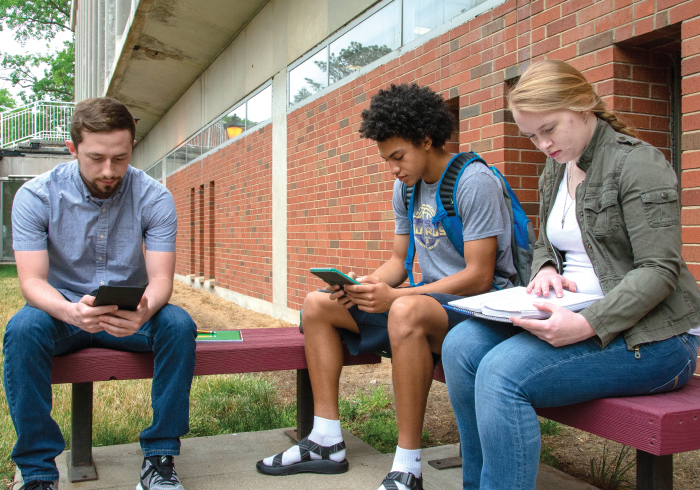 Recently, Barnes & Noble College's Vice President of Marketing Ken Wincko was interviewed by Joe Keenan with the Total Retail Talks podcast. They discussed the collegiate retail experience and how retailers can revamp their mobile app to better appeal to Gen Z students.
Mr. Wincko's expertise in marketing and communications has been nationally recognized. As an expert in account-based marketing, lead nurturing and demand generation, he shares his strategic insight on marketing to Generation Z students and enhancing on-campus collegiate retail.
Today, Mr. Wincko discusses why college stores need an omnichannel marketing strategy, how to increase student engagement and his best practices for launching a college store mobile app.

At Barnes & Noble College, our mission is to serve the needs of higher education and to be a complete support system for students, faculty, parents, alumni and fans. Until recently, collegiate retail had experienced very little disruption. However, now the entire retail industry is amid a digital transformation, and everyone, including college stores, must be ready for the next era of retail.
Savvy retailers are evolving with consumer expectations and prioritizing customer experience. All stores from large, big-box retailers to college stores must be prepared to engage customers with a streamlined website and app, a vibrant social media presence, a personalized customer experience, and easy access to promotions and useful lifestyle tools.
Gen Z students are the core demographic on college campuses. These students grew up with easy and immediate access to technology. They do not remember a time before the internet, social media or smartphones. All of this contributes to their view of the college store and their expectations for a great customer experience.
Collegiate retailers must have an omnichannel marketing strategy
Gen Z students want to be served where, when and how it is most convenient for them. In a large-scale shopping behavior study with 46,000 participants, 73 percent of US consumers use multiple channels when making purchases. For college stores to be successful, they need to provide a unified online and offline omnichannel experience.
Generation Z students, more than any other generation, have specific omnichannel retail expectations. A streamlined digital experience that connects to the shopper online and in-store connects to the heart of Gen Z's desire for convenience.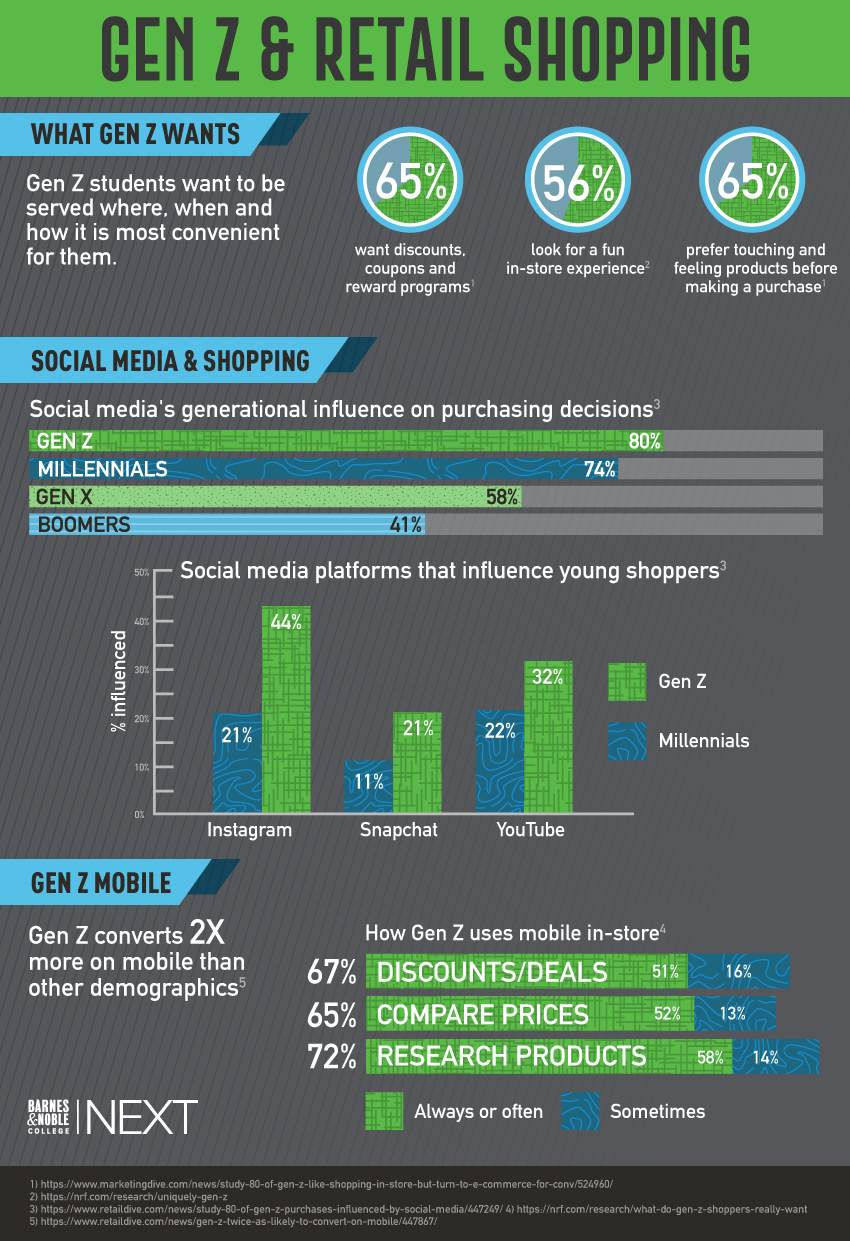 Students are busier and more easily distracted. This makes it harder to attract their attention. Having a connected and seamless multi-touch approach is critical for success.
For BNC, collegiate retail is much more than just shopping: the college store is the first step of a student's college life. Our stores blend the world of commerce and education. We use advanced technology to simplify the student shopping experience and build in-store experiences that promote a community of learning. We offer more than just retail. Our stores are a campus community hub.
Engaging Gen Z with your college store mobile app
Mobile usage continues to grow with every demographic, including Gen Z. The amount of business that transacts on mobile has eclipsed desktop and tablet usage. Consumers check their phones every day, multiple times a day. It's a massive channel of communication and the opportunity for collegiate retailers to engage Gen Z students is undeniably enormous.
According to BNC research:
The top three reasons why students want mobile shopping apps are to find deals/coupons (69%), compare prices (60%) and convenience (55%).

The top two ways students use mobile shopping apps are to track the status of an order (83%) and research products before they make an in-store purchase (60%).

Students who use mobile shopping apps while in-store look for promotions/coupons (70%) and to do price comparisons (57%).
While all of our channels are important, the mobile app is a cornerstone of our strategy. Our customizable mobile app has the power to engage students in compelling experiences anytime, anywhere. From the moment students are accepted to their college or university to graduation, we leverage the mobile app in a wide variety of ways that enhance the overall student experience.
4 best practices when launching a college store mobile app
Listen to your customers — In such a dynamically shifting space, listening to what the people who use your mobile app want is especially critical to development and success. BNC has built custom feedback mechanisms into all of our services to make sure that we're always creating intuitive and valuable platforms for our customers to use. We supplement our customer feedback with student pulse surveys and quick polls to ensure we are meeting the needs and expectations of the entire campus community. However, gathering feedback is only half the challenge. The other half is understanding and processing large amounts of data, so we can use it to take action. This requires a complex system to aggregate and correlate the information to make sure we're able to efficiently learn and convert raw feedback into actionable insights.
Have a single identity — Gen Z students have high expectations for convenience. Whether customers interact with a POS system, a mobile app or an eCommerce site, they want to only have to log in once and have their preferences follow them wherever they go. All of the different pieces of your omnichannel presence must be unified to consistently deliver the personalized experience today's shoppers want. That's why understanding your customers and how they engage with your store online and offline is essential. BNC focuses on creating robust interest profiles to enhance our customers' experience with their college store.
Enhance customer experience and commerce flexibility — The number of customer touch-points is always increasing. To build an outstanding retail experience, your store must be aware of the entire customer journey and ready to adapt when that journey changes. Technology is always evolving. It's critical that we build the right experience for the right interface. Experiences must also be built in a responsive and modular way to maintain consistency across platforms and devices, and customers should have access to purchase products in many different ways and in different places. For example, ad spending on social platforms like Instagram has sky-rocketed. However, just creating an Instagram ad isn't enough to ensure the ad's success. You have to also streamline the purchasing process from the social media ad or the ad will fail to convert.
Focus on retention, not acquisition — To truly recognize the value of mobile, you need to build experiences that keep users returning. By increasing the app's value to the customer, you will create a tool that fits into the customer's lifestyle. An enhanced loyalty program that expands these touch-points is a great way to support retention and grow their lifetime value as a customer. Personalized messaging and in-app experiences reinforce the product viability to users in a repeatable way.
At Barnes & Noble College, we are a complete support system for colleges and universities — both from an academic and retail experience perspective. We act as a strategic partner to improve affordability, enhance access and improve academic outcomes, all while supporting the financial and branding goals of our college and university partners through best-in-class retail experiences. We have a very strong understanding of the collegiate retail space that has allowed us to create thriving retail businesses in communities across the country.
Click here to listen to the complete podcast. To discuss how our custom store solutions could benefit your campus, schedule a time to talk.
More Insights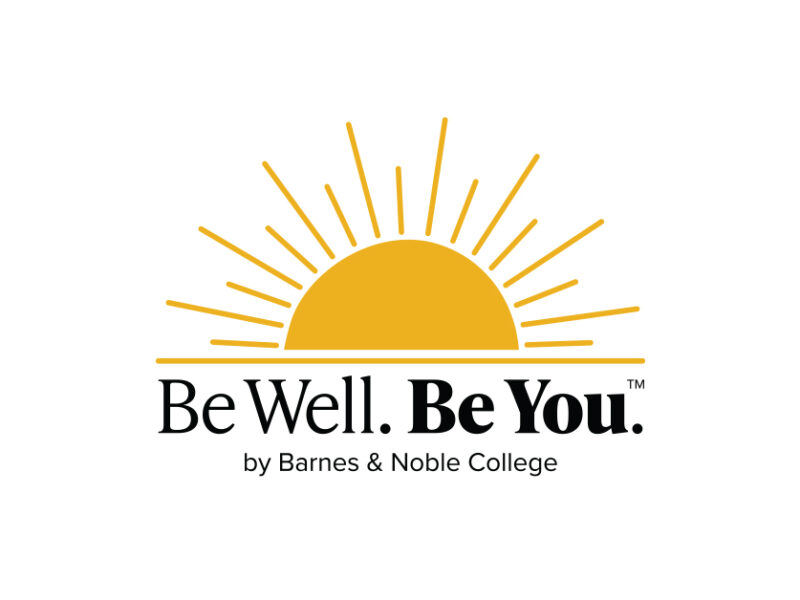 Retail Reimagined
· Article
Supporting Student and Campus Well-Being: Be Well. Be You.™ by Barnes & Noble College
In response to the growing number of students experiencing stress and anxiety, Barnes & Noble College has launched a new initiative to support the well-being of students and the campus communities it serves. Be Well. Be You.™ by Barnes & Noble College, is a thoughtfully curated collection of products that is designed to calm and recharge the mind and body.