College Insights
·
Article
Students vs. Faculty: What's Driving Perceptions of Value?
August 2, 2022
Opinions about the value of higher education are trending in a positive direction after the disruption of the last few years, according to feedback from students and faculty in our annual COLLEGE 2030™ research report.
One-third of students (and nearly one-third of faculty) reported that the value of higher education has increased, despite the challenges they've faced. However, 31% of students reported that the value has decreased in 2022, and while this represents a significant drop from 44% in 2020, it highlights the need to dig deeper on what drives perceptions of value.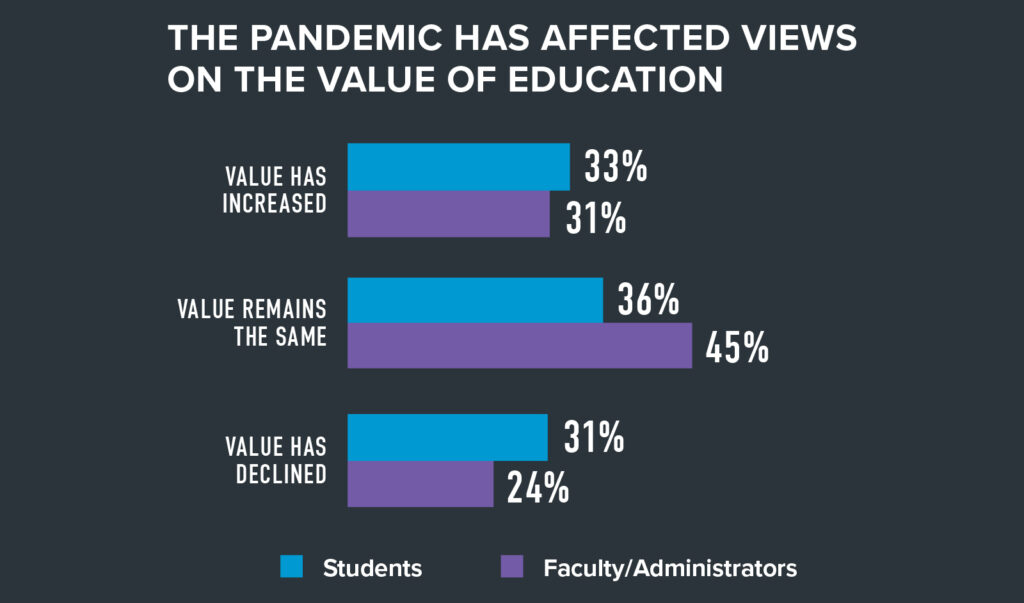 Three themes emerged around value in the report – with some alignment and divergence in student and faculty preferences. Each represents an opportunity for institutions to consider how to adjust or build their current offerings to increase value.
Preferred Class Format
The one clear area of divergence for students and faculty is their preferred class format; in the last three years, most campuses have fluctuated as needed between fully in person, fully remote and hybrid formats. Faculty overwhelmingly prefer to return fully to in-person instruction – more than half (54%), compared to one-third of students. This is flipped for hybrid instruction, which about half (49%) of students prefer vs. 35% of faculty.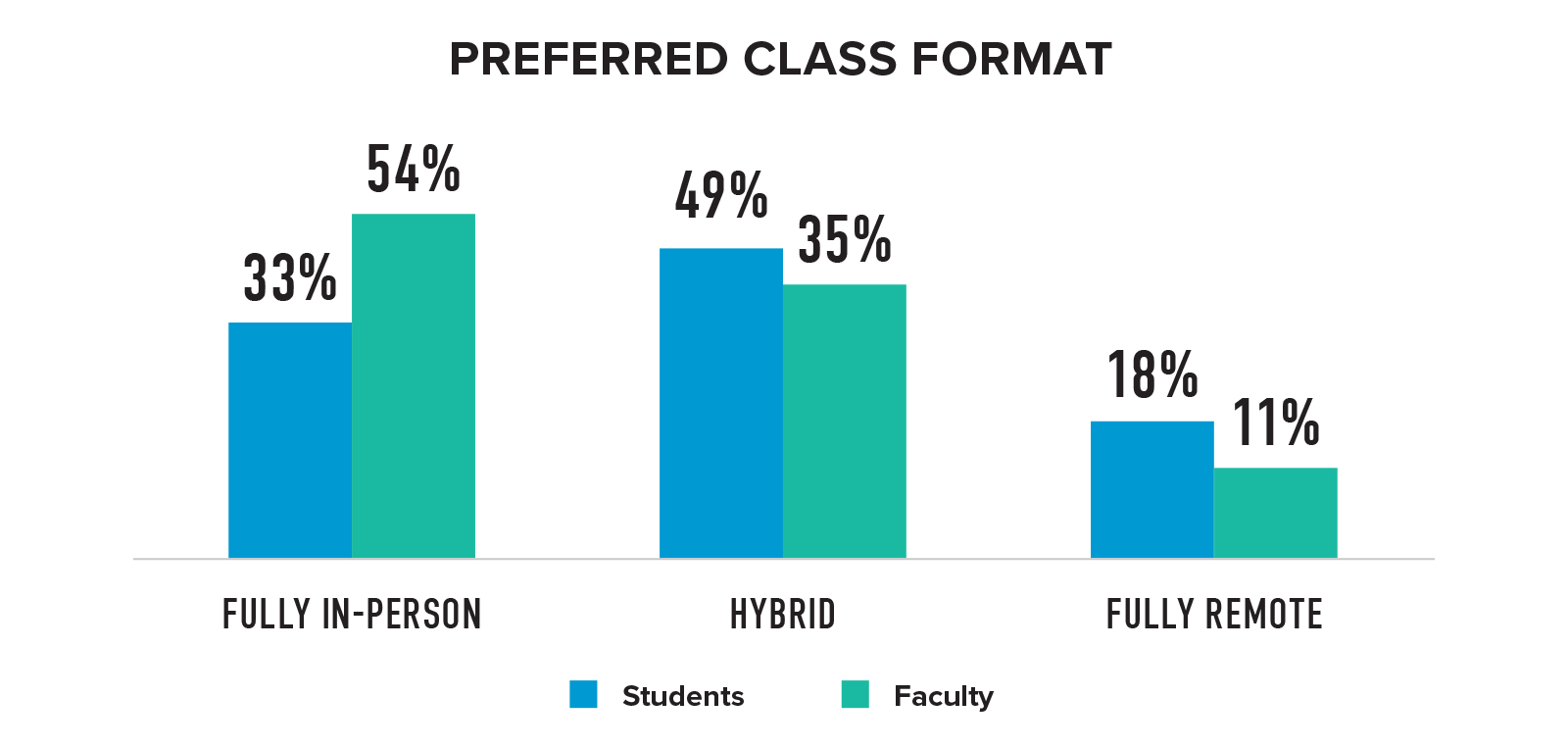 This will be challenging for institutions to balance, as both groups shared compelling insights about the return to in-person learning and how it has impacted their experiences.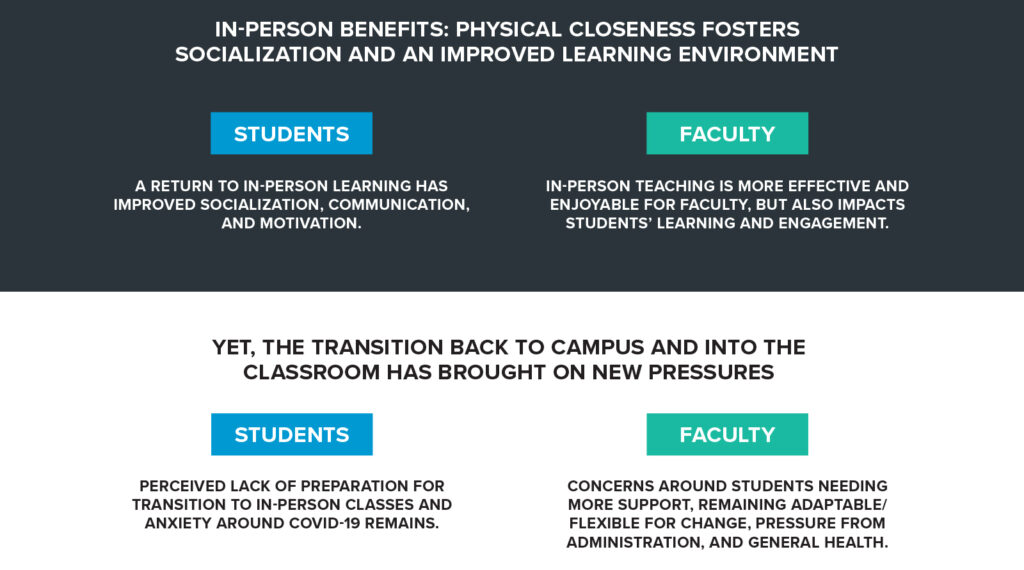 Each institution must decide how to structure their course offerings to best fit its campus community. However, clear communication is vital, ensuring students and faculty understand the options they have as well as the resources and support available.
Importance of Soft Skills and Career Tools
A significant percentage of students, faculty and administrators agreed that the ability to develop soft skills increased the value of a college education.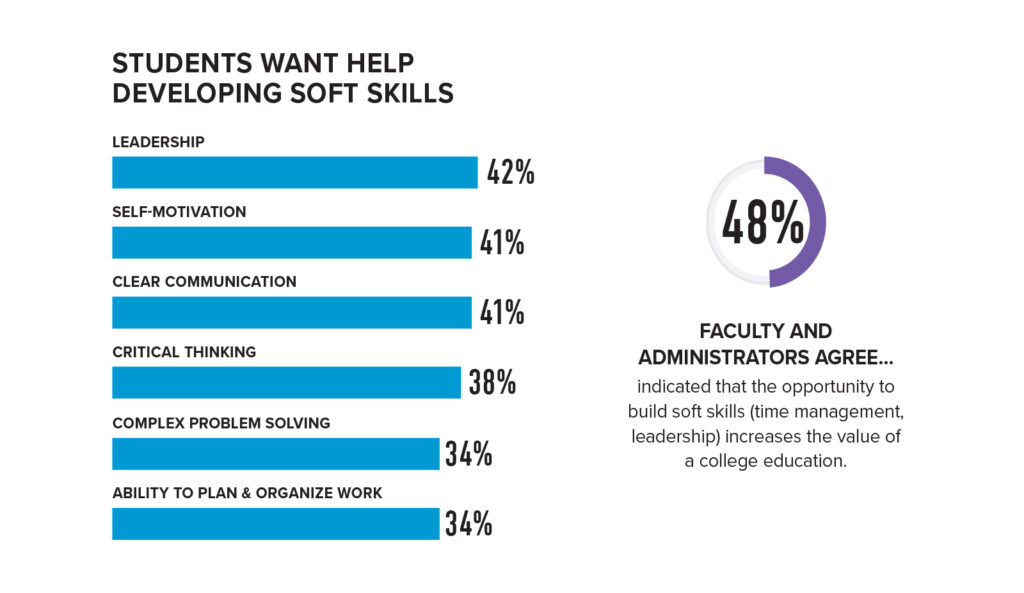 Students prioritized leadership, self-motivation, clear communication and the ability to plan & organize – all timely skills that could help them navigate online and hybrid course schedules. Longer term, these skills could also help them be stronger candidates for hiring. According to ZipRecruiter, 93% of employers say soft skills play a critical role in their hiring decisions.
Students also expressed interest in additional resources to help them be more competitive in their future job searches.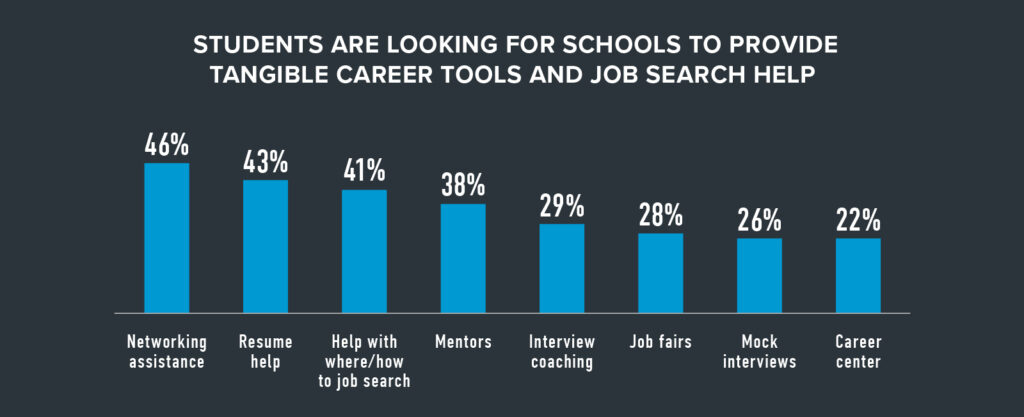 These offerings demonstrate an institution's commitment to helping students fulfill their employment goals and longer-term opportunities.
Highest Priority Areas of Value
When asked where schools should focus to offer more value, students and faculty were in step on the top three factors. Around 2/3 of respondents in both groups cited affordability as the most important area of value – and by a large margin. Faculty and students also rounded out the top three in complete alignment on career planning and student life services.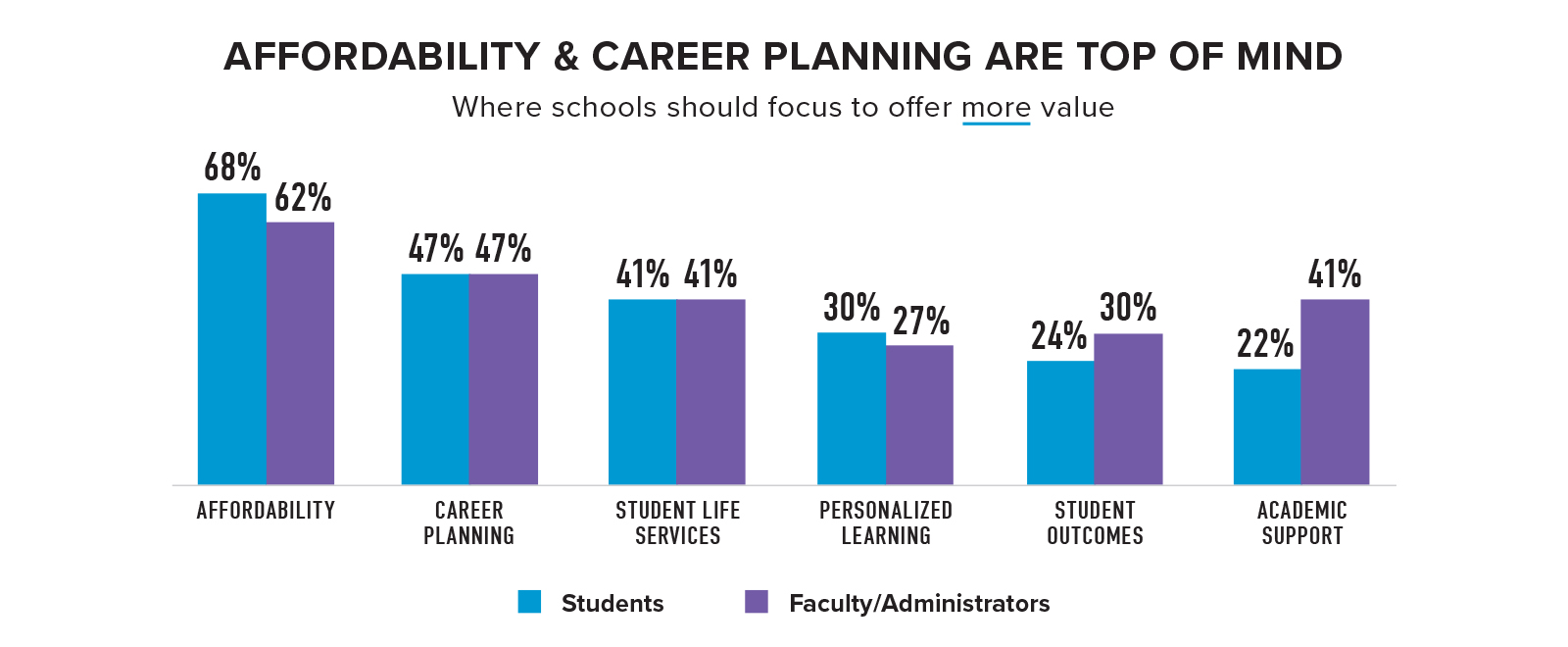 For more insights on the needs and mindset of students, faculty, and administrators, download the full COLLEGE 2030™ report, Emerging from the Pandemic: Reimagining Higher Education.
More Insights
Academic Solutions
· Article
The First Day® Complete Impact at EKU
Eastern Kentucky University's Chief Auxiliary Services Officer, Steve Caudill, discusses the impact of First Day® Complete on EKU's students.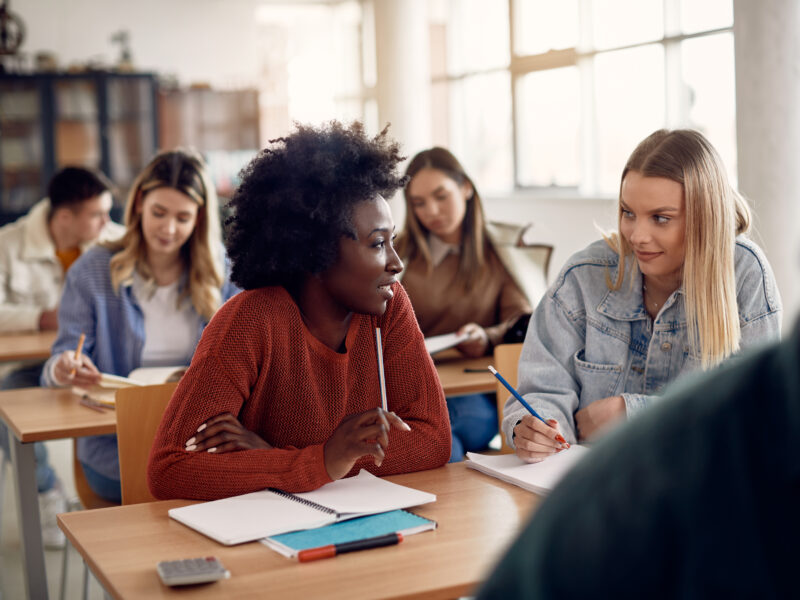 Academic Solutions
· Article
Positive Student Feedback: First Day Complete 
Students confirm that First Day Complete helps them be better prepared for class (86%), has a positive impact on their success (83%) and helps them get better grades (75%).