Academic Solutions
·
white paper
Streamlining the Course Material Adoption Process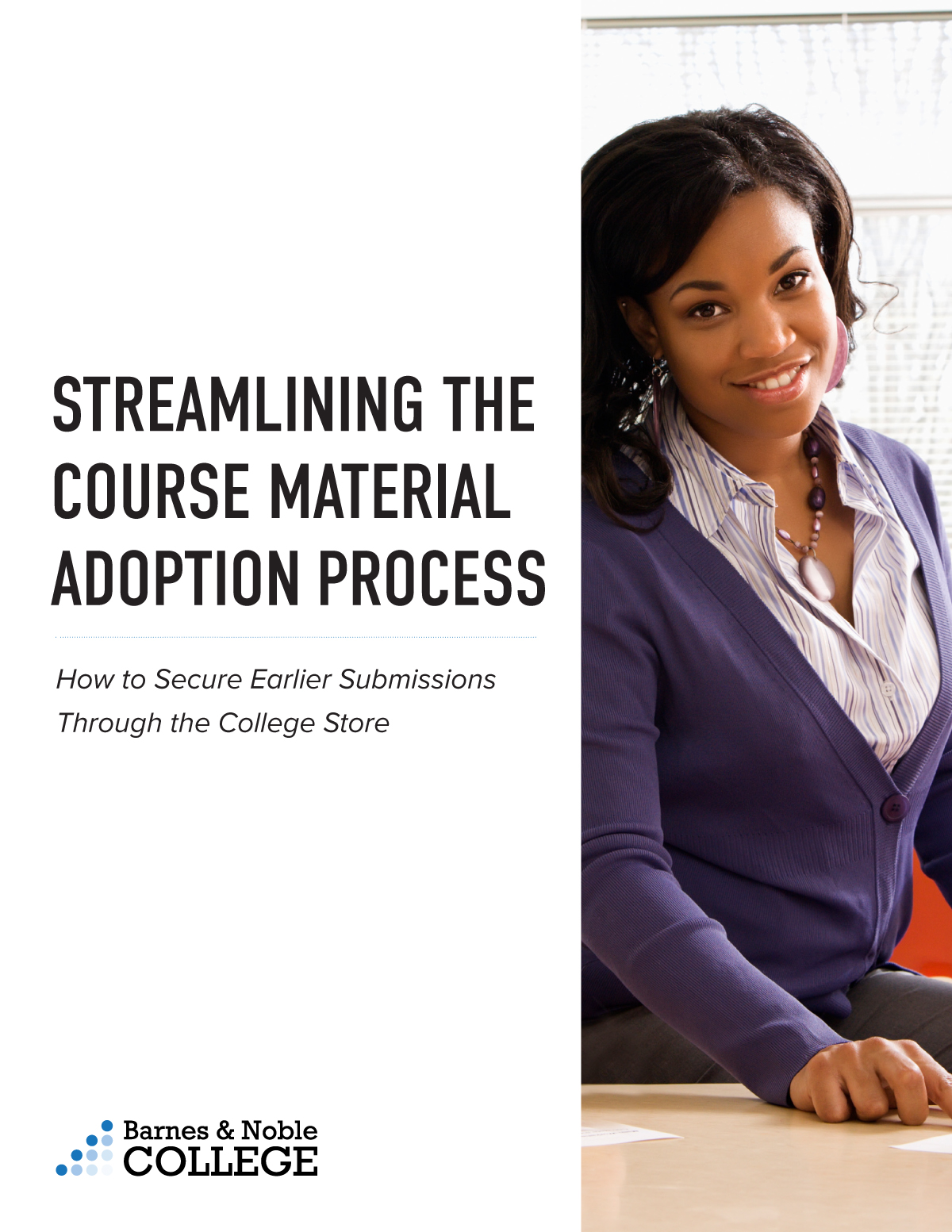 Download Now
* Required field
OVERVIEW
This year, higher education rapidly pivoted to remote work environments, from the classroom to core administrative functions. Delivering affordability, access and convenience was more important – and more challenging – than ever. Institutions looked for ways to simplify processes while ensuring students, faculty and administrators had what they needed to succeed.
For students, course materials play a vital role in being prepared and successful. Yet more than half (57%) said they did not have their course materials on the first day of class – and their professors had a lot of influence.
Barnes & Noble College shares relevant research findings and tips in Streamlining the Course Material Adoption Process: How to Secure Earlier Submissions Through the College Store. The white paper takes a deep dive into the adoption process today, the challenges we need to solve and how to simplify the experience for faculty and administrators.
Inside you will find
Insights on student affordability and preparation
Data on how faculty influence the purchase of course materials
Why early adoptions should matter to all stakeholders
Best practices for improving your college store's adoption rate
Tools to support a smoother adoption process
Results and partner perspectives from pilot schools
Testimonial
In partnership with Barnes & Noble College and our campus bookstore manager we documented what works and what doesn't and took the takeaways to improve the process. The willingness to jointly develop a faculty- and results-oriented tool will not only generate new efficiencies but result in greater textbook affordability and ultimately our students' success.
Birgitta Rausch-Montoto, Director of Global Strategy and Faculty Success and Chair, Textbook Affordability Task Force, Florida International University
As we continue to navigate fluid working and learning environments, these simplified processes will benefit all stakeholders, saving time and hassle for faculty and administrators while delivering the affordability, access and convenience students need.