Academic Solutions
·
Article
First Day® Complete Perspectives: Coastal Carolina Talks Implementing the Program
March 2, 2023
The second in a three-part series spotlighting Barnes & Noble College partner institutions that are preparing to or have implemented the First Day Complete equitable access program. The series will cover what to consider, implementation and maintenance of a successful program. Check out part one with Sonoma State University and part three with Sam Houston State University.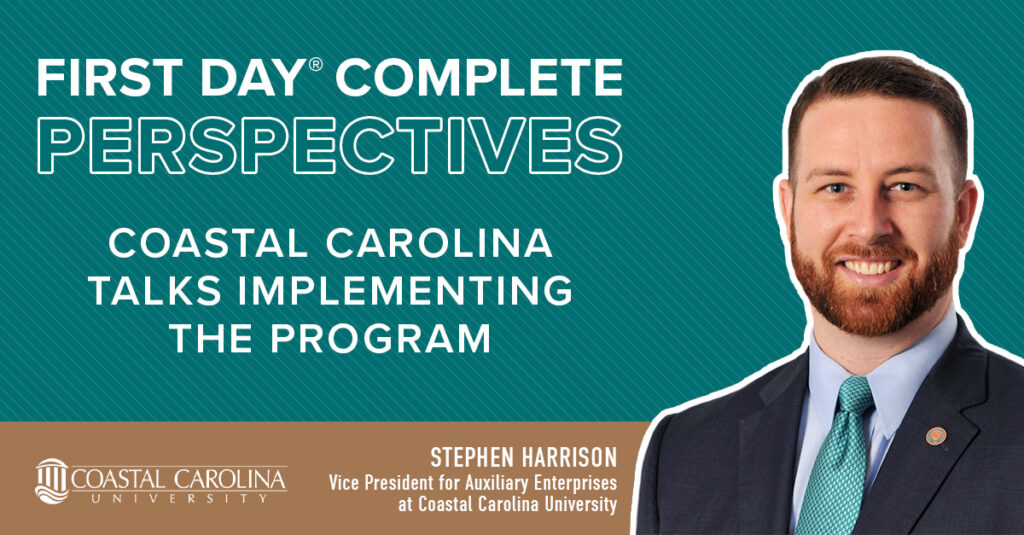 As of the Spring 2023 semester, more than 115 campuses across the country have implemented First Day® Complete, Barnes & Noble College's innovative equitable access program. Each one has unique insights to share that confirm how the highly customizable platform helps remove barriers to student success by improving course material access, affordability, and convenience.
Coastal Carolina University (CCU) launched First Day Complete in Fall 2022. At a recent industry event, Stephen Harrison, Vice President for Auxiliary Enterprises at CCU, shared his perspective on BNC's program and the initial response on campus. He also offered lessons learned and tips on communicating about the program with key audiences.
Communicating the Value of First Day Complete
"Our new students and families are excited. First Day Complete is part of their understanding of Coastal Carolina University through the admissions process. We've spent most of our time helping faculty understand what the virtue of this program is. They're very excited, especially the newer faculty. And we're grateful that's true.
Throughout our entire set of conversations, we talked, as we often do in the work of auxiliary enterprises, about how we want to remove barriers to success. This program felt like an easy win for us to do that."
Stakeholder Education and Alignment
"This is a university program, not just a bookstore or auxiliary program. We're doing it for the benefit of our students, and we're not asking faculty to change much. We're just making it easier for them to deliver their course material. Everyone who answers questions about the program – Student Accounts, the Bursar's office, Financial Aid – needs to be saying, 'This is what we decided to do, and this is why.'
I think we did a fair job – or even a little better than fair – of providing a wonderful CCU First Day Complete website with a number of FAQs and videos by our marketing communication team, built on the foundation that BNC put together in terms of a marketing plan."
Advice for Peers Considering First Day Complete
"One thing that worked great for us was suggested by a faculty member – a help desk. So our colleagues sat in the student union at a desk with a sign that basically said, 'Ask me.' Students individually would come forward and talk through their questions. 'Listen, I got this email, I don't know what this is. I already opted out. So will you now help me figure out if I made the right decision?' We have any number of student stories. 'You're a chemistry major? My gosh, you absolutely want to be in this program. Just look at the math with us.' It's been an interesting experience – we've started off in just one semester, and we're working hard to refine our communication."
To see how students experience First Day® Complete, watch our video – and to learn more about how BNC can support the academic journey on your campus, contact us.
More Insights
Academic Solutions
· Article
The First Day® Complete Impact at EKU
Eastern Kentucky University's Chief Auxiliary Services Officer, Steve Caudill, discusses the impact of First Day® Complete on EKU's students.