Academic Solutions
·
Article
First Day® Complete Perspectives: Sonoma State Talks Making The Equitable Access Decision
January 26, 2023
The first in a three-part series spotlighting Barnes & Noble College partner institutions that are preparing to or have implemented the First Day Complete equitable access program. The series will cover what to consider, implementation and maintenance of a successful program. Check out part two with Coastal Carolina University and part three with Sam Houston State University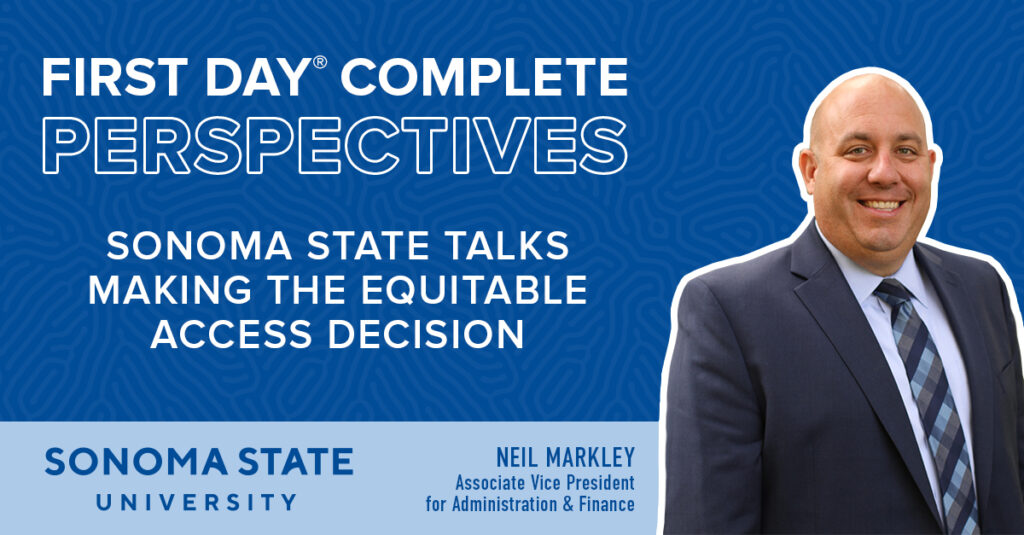 As of the Spring 2023 semester, more than 115 campuses across the country have successfully implemented First Day® Complete, Barnes & Noble College's innovative equitable access program. Each one has unique insights to share that confirm how the highly customizable platform helps remove barriers to student success by improving course material access, affordability, and convenience.
Sonoma State University is preparing to launch First Day Complete in Fall 2023. Neil Markley, Associate Vice President for Administration and Finance at SSU, shared his perspective on the benefits of equitable access and choosing BNC's program at a recent industry event. He also offered advice for other institutions considering implementing the program.
Why did SSU decide to implement First Day Complete?
"I think what drove the decision was the equitable access piece – flattening out the cost [of course materials] for all our students, no matter their major. I think there's a second piece that ties to enrollment a little bit, too, and that's differentiating ourselves. Not a lot of campuses in California are currently doing an equitable access program.
This is one way a parent and a student, as they're looking at the cost of education, can get rid of some uncertainty. Here's your flat rate per unit. You know what it is when you're coming in. What we're hearing from parents is that they appreciate some of that transparency. If we're able to say, 'Here's the cost, no surprises,' that's great for them."
What surprised you while securing buy-in on campus?
"We have a unique, very active faculty, and I think they view shared governance in a way that's unlike any other institution. So, I was concerned that getting them on board would be difficult. Our students were supportive, which helped. And our faculty had a lot of questions, but they really came through and approved moving forward with the program. I think people just saw the value in it."
"We had conversations about costs with faculty who had already adopted low-cost course materials. One thing that helped was a point made by a faculty member: We don't charge more to take a science class than we do a humanities class. It's the same price. Why can't that be the same for course materials? So yes, some materials are less, some materials are more, but it flattens out, just like our courses. That was a really strong point from the faculty."
What are some of the challenges you've faced?
"We had a very good consultative process with our faculty and our students. As we got closer to implementation, we started to have some challenges, not with those groups, but with other stakeholders who didn't fully understand what we were doing. We eventually came to a consensus that the important piece is communication. You really need to make sure that your communication – with your faculty, your students, your staff, your administration – is what it needs to be. If it's not excellent, particularly for a program like this, people won't participate, and the program won't do well.
We rescheduled implementation just to be sure we had all of our I's dotted and T's crossed for the marketing plan and communicating the program out to the campus. Surprises come from unexpected places, so just keep that in mind. Really keep your eye on all the constituency groups, including those you think may not really be a huge factor in this."
To see how students experience First Day® Complete, watch our video – and to learn more about how BNC can support the academic journey on your campus, contact us.
More Insights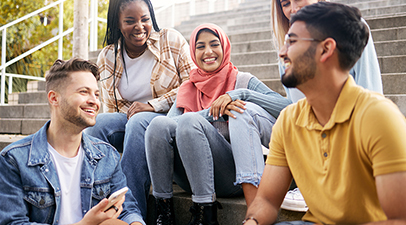 Academic Solutions
· Article
5 Innovative Ways to Support Student & Campus Well-Being
College students are seeking support as they address stress and anxiety and create paths to greater self-care. Institutional partners and well-being experts from the University of Maryland, the University of Tampa, Lifelines and Rae Wellness highlight how campus stores are sparking conversations and connecting students with tools to improve well-being.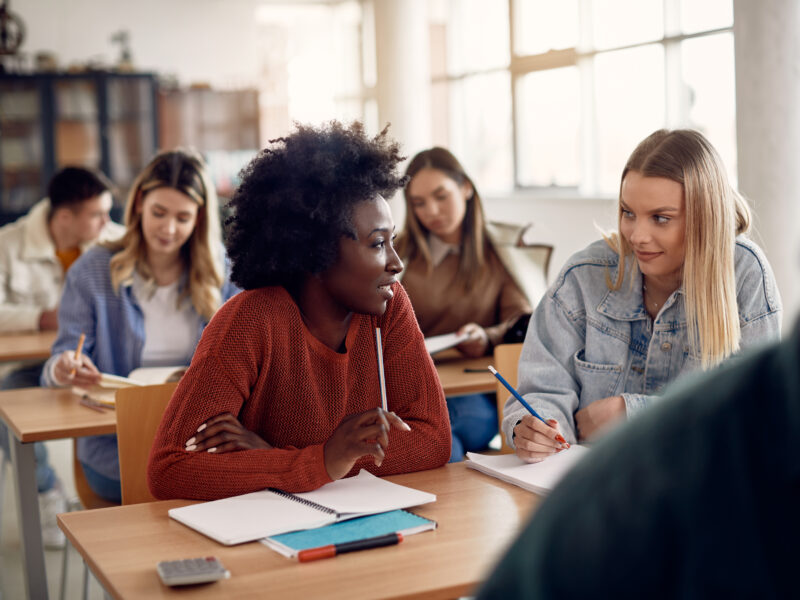 Academic Solutions
· Article
Positive Student Feedback: First Day Complete 
Students confirm that First Day Complete helps them be better prepared for class (86%), has a positive impact on their success (83%) and helps them get better grades (75%).