Academic Solutions
·
Article
First Day Complete: You Asked, We Answered
April 18, 2023
Faculty and administrators shared 7 reasons to consider First Day® Complete and other insights in our recent webinar, Real Talk: Where Could You Be with Equitable Access? The panelists also answered questions from the audience on publisher availability, price, OER and other ways the First Day Complete removes barriers from higher education and improves student outcomes. The following are their responses to the most frequently asked questions.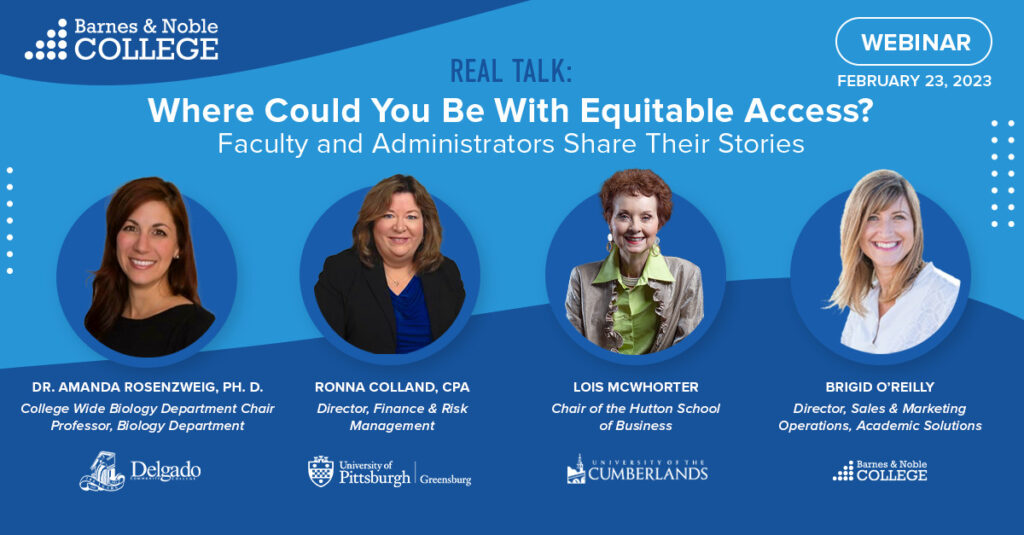 AFFORDABILITY
Improving affordability is one way First Day® Complete helps remove barriers from higher education. Questions about pricing and costs are at the top of the list for many institutions looking into equitable access programs, and while every program is different, the results are clear for First Day Complete. Students save, on average, 35 to 50% across their entire academic journey – and they notice. Nationwide, 79% of students said the program provided them more affordable course materials.
How do you convince faculty and students they are getting a better price than with online retailers, etc.?
Dr. Amanda Rosenzweig: "I can speak for the biological sciences, as our materials are usually much more expensive. For one class, we may have a textbook, a lab atlas and a secondary photo atlas – as well as lab materials – and they're all getting it for the cost per credit. There's no possible way to go on Amazon and even piecemeal this material for the cost they're getting."
Can students rent materials? Do they have the option to purchase a book if they do not wish to return it?
Brigid O'Reilly: "The print books are set up as rentals to help drive affordability, so students will return their books at the end of the term. BNC does offer a rental buyout option as well. If a student wants to retain a particular book, it's offered to them at the end of the term for a discounted rate. Typically, only 2% of students who rent books choose the buyout option, but it is absolutely there for students, should they want to do that."
Dr. Amanda Rosenzweig: "Our students work directly with the bookstore and the publisher. For the digital-only books we provide them, for a small price – it's actually very affordable – students can purchase a softbound, print version that's delivered directly to them. It depends on the publisher if it's black and white or in color, but our students get it at a discounted rate. It's been a great option."
ACADEMIC FREEDOM
With First Day Complete, institutions have the flexibility to customize their program with the most comprehensive catalog of lowest priced print and digital course materials. Faculty maintain full academic freedom to select the course materials that best suit their course in their preferred format, and students receive the lowest per credit hour price.
Are schools limited in terms of textbook publishers?
Brigid O'Reilly: "We have expansive partnerships with publishers – faculty can use all kinds of content. Our Adoption & Insights Portal actually provides some affordable options, OER and low-cost materials, so there really aren't any limitations. Faculty have full academic freedom to select the materials they want."
So faculty can still use OER?
Brigid O'Reilly: "The beauty of OER is that it works really well with First Day Complete, because the program combines all affordable initiatives to help bring down the overall price for students. When we provide a custom price for each institution, we're taking a very thorough look at the courses and the course materials that are adopted by faculty. When OER and low-cost materials are factored in, it really helps reduce costs and provides savings for all students."
FUNCTIONALITY AND FLEXIBILITY
First Day Complete has the latest technology and systems to deliver the most seamless and personalized equitable access experience for students, including a proprietary, best-in-class opt-out management platform for institutions using a course-fee model.
How has opt-out worked, and has it been challenging for you and your students?
Ronna Colland: "In our first year, opt-out was at 30%, and that was to be expected. It was a new program, and students were trying to figure everything out. Now, we are down to 14%, which is really great. I attribute that to the fact that students understand more about the program and its advantages.
As far as how our opt-outs are handled, the students are billed for their book charge on their bill. And if they choose to opt-out, they have until the end of the period to contact or notify the business office. We have a form that's on our website that they can use.
The business office is good because they can also answer questions about this and explain to students that they are opting out of everything – it's all or nothing for that particular term. I think that's important, so they make the right choice. The students understand that the course materials they may have been looking at on the LMS will most likely go away if they opt out."
Brigid O'Reilly: For institutions that do not want to manage the opt-out process, Barnes & Noble College does have an opt-out platform as part of First Day Complete. It's optional for an institution to use. Second, what we're also seeing is that with more communications, students are opting back in. What Ronna said is very powerful – a student really needs to understand the benefits of the program and what they're opting out of to make that decision."
To learn more about First Day® Complete from the student perspective, watch our video – and to learn more about how BNC can support the academic journey on your campus, contact us.
More Insights
Academic Solutions
· Article
The First Day® Complete Impact at EKU
Eastern Kentucky University's Chief Auxiliary Services Officer, Steve Caudill, discusses the impact of First Day® Complete on EKU's students.